Fire safety is a crucial aspect of running a business, and knowing how to deal with fire-related incidents is important. In the event of a fire, it's essential to understand how to respond. Lack of preparedness can be fatal in an incident, which is why fire procedures are a legal expectation in any business.
As a leader in providing fire shutters in London, we understand the importance of ensuring your business is organised for emergencies. We want you to be safe, so we've put together some helpful tips to help you stay prepared for a fire in your business.
Fire Evacuation Policy
Fire safety is a significant concern for all companies. It's not only essential to prevent fires but also to ensure that people are safe when they do occur. One of the most important things you can do is create an evacuation policy. This will help you prepare for a fire and ensure everyone knows what to do if one does break out.
The best way to create an efficient evacuation plan is to provide employees with clear and concise directions through an easily accessible procedure. This document should cover all areas of your business, including the building's layout, exits, and emergency procedures.
Training staff on how to react in an emergency is also necessary. This will ensure that they're ready to evacuate when necessary.
The following four-step plan can help you create an effective evacuation policy:
Identify all possible risks at work.
Map out all areas of your building.
Create an evacuation plan based on these findings.
Train staff on how to react in case of an emergency.
Fire Risk Assessment
Fire risk assessments, required by the Regulatory Reform (Fire Safety) Order 2005, determine workplace fire risk, identify hazards, and assess fire likelihood. Factors include combustible materials like wood or paper products.
A fire risk assessment will help you identify all possible sources of fire in your building, including:
Electrical wiring and equipment
Heating systems
Cooking appliances
Furniture, fittings and materials
Creating an excellent fire-risk assessment requires two stages:
Assessment
This involves identifying potential risks from fires or other hazards, such as flooding or pest infestation, which could increase fire risk from electrical short-circuiting or pest excretion.
Review
This involves reviewing your existing fire precautions and ensuring they remain up to date with current legislation and requirements.
Ensure staff safety by regularly updating risk assessments, ideally annually, or when significant changes to your business property layout occur. This helps maintain evacuation procedures, preparing for potential emergencies.
Fire Extinguishers and Fire Blankets
The most important thing is having a fire safety plan and equipment list. The following are some items that you should consider when creating your own fire safety plan:
Fire Extinguishers: It's highly recommended to have one extinguisher for every 100m2 of floor area. The extinguisher type depends on the fire; CO2 extinguishers effectively combat small fires involving flammable liquids like paints, solvents, and petrol.
Water extinguishers work well for these fires, but not electrical fires, as they conduct electricity and could cause explosions if misused. CO2 is preferable for electrical fires due to its lower conductivity, making it a safer option.
Fire blankets: These should be placed next to all exit doors leading out of any building or premises where large numbers of people gather, such as offices, shops, schools, etc. They should also be placed near all kitchen areas with an elevated risk of grease fires breaking out, such as fast-food restaurants, or cafeterias.
Fire Doors and Shutters
Incorporating steel doors into your fire safety procedures is crucial for businesses, as they provide a durable and resilient barrier. We can offer many fire-resistant doors in London, suitable for buildings like schools, hospitals, and shopping centres. These high-quality doors are easy to maintain and outlast other materials, such as wood.
Steel door sets can be installed internally or externally, depending on your requirements. Most importantly, these doors can be fire-rated, ensuring the safety and security of your building's occupants and contents.
Fire-resistant shutters are vital for fire safety procedures, containing fires and limiting damage. They ensure compliance with building regulations and insurance needs and are customisable to fire resistance requirements.
Offering enhanced security, fire shutters deter theft and protect employees and property. Integrating with fire alarm systems or stand-alone activation systems, they minimise risks to life and property. Investing in high-quality fire shutters promotes compliance and safeguards your business, proving their importance in fire safety strategies.
Emergency Lighting and Signage
The key to effective fire safety procedures is ensuring everyone knows what to do during a fire. Signs and emergency lighting are the most efficient way to do this. Emergency lighting is an essential component of any fire safety strategy.
It provides light in the event of a power outage and can be used to guide people to safety. Emergency lighting should be installed in all dangerous areas, such as stairwells and hallways that lead to exit routes.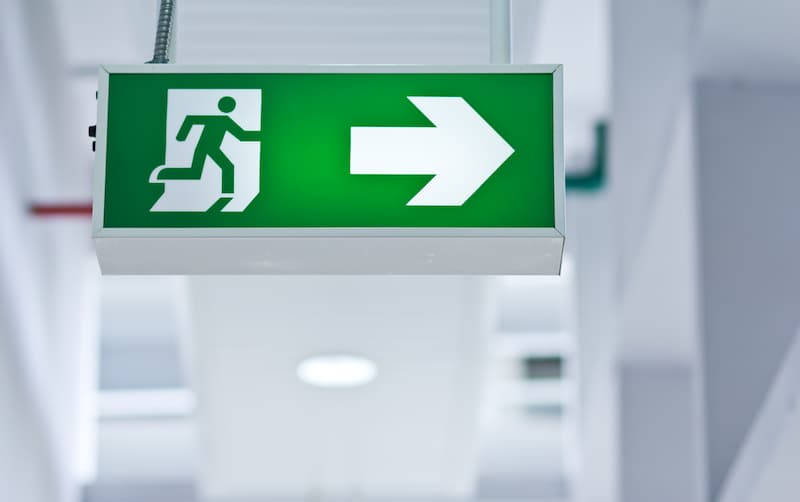 Having adequate signage of meeting points and evacuation exits also are essential to your fire safety procedures. Safety signs can help guide people out of the building safely and efficiently. Safety signs should be placed in areas where everyone can easily see them in case of an emergency. Various types of safety signs are available, including exit signs, fire extinguisher symbols, and hazardous materials symbols.
Fire and Smoke Curtains for Additional Protection
A fire or smoke curtain is an essential component of a comprehensive fire safety procedure, designed to maintain the compartmentation of buildings and limit the spread of fire and smoke. Compact, flexible, and cost-effective, fire curtains provide an efficient alternative to traditional containment methods. Smoke-resistant curtains stop smoke from reaching another part of your building, whilst fire curtains limit the spread of fire and smoke while allowing access to protected escape routes, both vertical and horizontal.
High-Quality Fire Doors and Shutters
There are many ways to keep your business safe from fire, but one of the most efficient methods is installing fire-rated shutters or doors. As a leading manufacturer and fitter of fire-rated doors and shutters for businesses across London, we have worked with many distinct types of customers to create customised solutions suitable for their needs.
Our team can advise you on the most efficient products for your business, which offer some of the latest developments in fire resistance. We will collaborate with you to create a solution for your property's needs. We also provide a range of other shutters and products to help prevent your business from other vulnerabilities, such as theft. Speak to us today to get the best protection for your property.