Security is a top priority as a business owner with a private car park. With the rise of car theft and vandalism in urban areas, investing in reliable security solutions is essential. Installing security products and strategies gives your car park the protection it needs to give your customers and staff peace of mind. You can implement various security options to suit the layout and design of your private car park, each offering multiple solutions for a great range of budgets.
As a leader in providing security shutters in London and the surrounding areas, we will explore the benefits of increasing security for private car parks and how to do this for your business.
The Importance of a Secure Car Park for Your Business
A safe car park is essential for any business that values the welfare of its employees, customers, and assets. The importance of having a secure car park cannot be overstated, as it can help prevent theft, vandalism, and other criminal activities. It also gives peace of mind to the employees and customers who park there; they can trust that they are safe when leaving and returning to their vehicles, and that their vehicles and belongings are safe. A secure car park can enhance a business's reputation, demonstrating a commitment to safety and customer service.
Additionally, a protected car park can even lower the cost of insurance for staff and any vehicle fleet that may require using the car park during the day or for overnight storage. When calculating quotes, insurance companies consider the risk associated with parking in an unprotected or poorly secured area. By investing in proper car park security, businesses can protect their assets and save money on insurance in the long run.
How to Create a Secure Car Park
When considering what you need to secure a car park, assess the area's size, location, and usage. Consult with experts and evaluate potential security risks to determine the best solutions.
To help get you started, here are four security solutions that can help provide excellent security for a business car park:
Electric Barriers: Electric barriers are an effective way to control access to your car park. They can be programmed only to allow authorised personnel to enter and exit, ensuring that only those with permission can access the area. Electric barriers can also be equipped with safety features such as sensors that detect obstacles and prevent the barrier from closing on a vehicle.
Security Gates: Security gates can provide additional protection to your car park. They can be installed at the entrance or exit to the car park and can be operated using a remote control or a keypad entry system. Security gates are available in a range of materials, including steel and aluminium, and can be customised to fit the specific needs of your business.
CCTV Surveillance: CCTV surveillance is crucial to any car park security system as it provides 24/7 monitoring of the area and can help deter criminal activity. CCTV cameras can be installed at strategic locations throughout the car park and accessed remotely via a smartphone or computer.
Access Control Systems: Access control systems can restrict access to certain car park areas. They can be used with electric barriers or security gates to ensure that only authorised personnel can enter certain areas. Access control systems can also be customised to suit your business requirements, with options such as card readers or biometric scanners.
Other Ways of Protecting Your Car Park
In addition to the security solutions provided above, there are several other ways to protect your business car park. One effective strategy is to implement a clear and comprehensive car park policy. This should include guidelines for parking, speed limits, and prohibited activities such as loitering or unauthorised access. By making your expectations clear to employees and customers, you can create a culture of safety and security. To help maintain the guidelines and expectations of users, consider hiring a security guard or patrol service to monitor the car park during high-risk periods, such as overnight or on weekends. A visible security presence can be an effective deterrent and provide additional protection for your car park.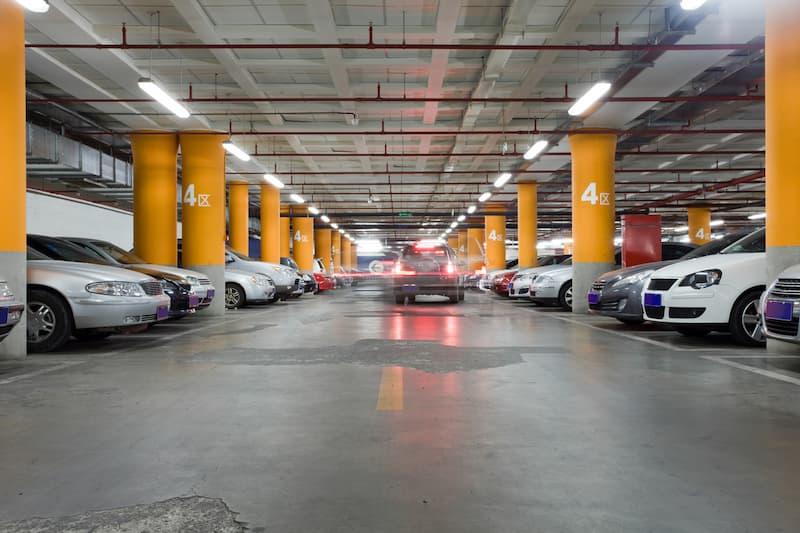 Another way to protect your car park is to ensure it is always well-lit. Adequate lighting can deter criminal activity and help employees and customers feel safer when parking or walking to and from their vehicles. Regular maintenance is also essential to ensure the safety of the car park. By fixing damaged barriers or gates and removing potential hazards such as debris or potholes, you can be sure that your parking area is safe to use, preventing costly liability claims or accidents.
Upgrade Your Car Park Security With Abacus Shutters
Protecting your business car park is crucial for the safety and security of your employees, customers, and assets. With the wide range of security solutions, it is easier than ever to customise a strategy that meets the unique needs of your business.
If you are looking for a trusted supplier of security gates and electric barriers for your business car park, Abacus Shutters is here to help. With over 40 years of experience in the industry and a commitment to providing high-quality products and services, we can help you design and install a tailored security solution that fits your specific needs and budget. Contact us today to learn more about our products and services.